Soups
Famous Hungarian soups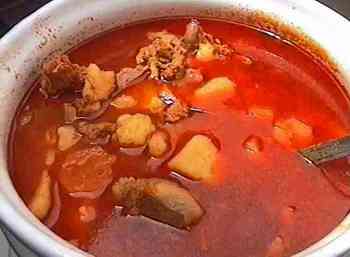 Gulyas soup (gulyásleves)
Ingredients
600 g bruisket or forequarter of beef
200 g onions
20 g sweet Hungarian paprika
1 tomato, 1 green pepper
salt


Instructions
1. Cut the meat in cubes, wash and put it into a saucepan, together with the chopped onions, paprika, salt and a little water.
2. The onions may be fried first. Let it simmer.
3. When the meat is almost tender, add the potatoes, cut in cubes, and sufficient water to make the required quantity.
4. Simmer again until the meat in tender.
5. Before it is quite done, add the sliced tomato and green paprika.
6. Make a dough of about 200 g flour, one egg and a pinch of salt. Roll out very thin, cut into small squares and boil in the soup for a minute or two before serving.
Very good soup.





previous
next

Others
Version
With lot of potatoes, or with other meats.


More Hungarian soup recipes

Balaton fisherman's soup 1. (Balatoni halászlé)

Danube fisherman's soup 1. (Dunai halászlé)

Szeged fisherman's soup 1. (Szegedi halászlé)

Chicken soup Ujházy style

Meat soup (húsleves)

Bean soup (bableves)

Hungarian bean soup with smoked ribs

Hungarian goulash soup
Hungarian goulash soup from the pot

Hungarian potato soup (krumplileves)

Lentil soup (lencseleves)

Rich man's soup

Sour cherry soup
More Hungarian Recipes

Cauldron recipes

Fish recipes

Hungarian recipes

Pigkilling recipes

Pörkölt (stew) recipes

Soup recipes

Basic recipes

Decoration
Salad recipes

Next:


Main site (index)

All recipes in ABC order


We wish You Good Cooking and enjoy the tasty result!