Barbecue & Grill recipes
Grilled vegetables and fruits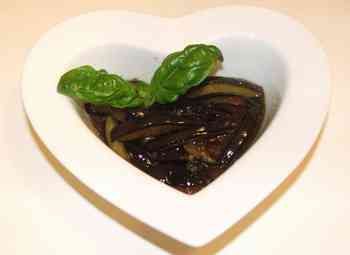 Eggplant with Martini (Melanzane al Martini)
Ingredients
600 g eggplants
3 tbsp Martini Dry
3 garlic cloves (crushed)
2 tbsp olive oil
3 tbsp soy sauce
1 tsp Honey
aluminium foil


Instructions
1. Wash the eggplants and slice into 1 cm slices.
2. Mix Martini, crushed garlic, oil, honey and soy sauce to a marinade.
3. Season the marinade with salt and pepper.
4. Grill the eggplants on aluminium foil (both site).
5. Pour the marinade on the hot eggplant slices.
6. Wait 1 Hour and serve this antipasti.




previous recipe
next recipe

Others
Idea
Serve with other Italian appetizers.




Barbecue & grill recipes

Sweet recipes

Cauldron recipes

Basic recipes

Hungarian salad recipes

Next:


Main site (index)