Sandwiches
Butter and other spreads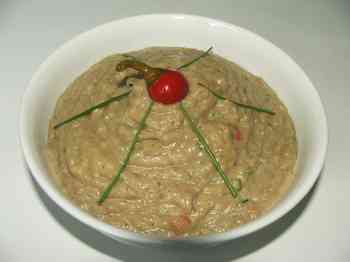 Köpolu (Turkish eggplant spread)
3 medium size eggplants
1 tbsp chopped fresh parsley leaves
3 garlic cloves
2 tbsp softened butter
4 tbsp vegetable oil
1 tbsp mayonnaise
1 tsp salt, 1 tsp sugar
1/2 tsp ground black pepper

1. Preheat oven to 350 degrees.
2. Prick each eggplant in several places with a sharpen knife.
3. Put unpeeled eggplants in a baking tin. Baking time approximatley 40 minutes.
4. Now let stand to cool the eggplants.
5. Peel the eggplants and put it into a mixing bowl.
6. Add the ingredients and mix at medium speed. Decorate the plate and serve cool.


Others:
Idea
Garnish with chives and put it into the fridge.

Next:


Main site (index)

Tea sandwiches, canapés

Starters, appetizers