Jewish recipes
Csolent, sólet, shalet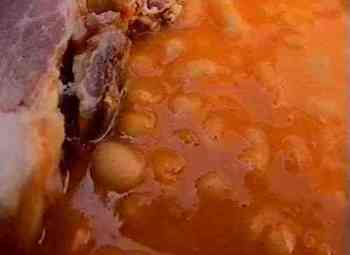 Csolent (solet) 2.
1 kg white bean
1 kg smoked meat
2 large onions (chopped)
5 cloves of garlic
1 tablespoon paprika
2 spoonful of goose fat
3 bay leaves, salt

1 Soak the beans and the meat at the previous night.
2 Put all of the ingredients into a large fireproof jar.
3 Add water and salt only if necessary, do it, which depends on the meat.
4 Enough water to to cover it.
5 Boiled over very low heat cook for 3-4 hours.
6 This can be done in oven, or stove flame as well.



previous recipe
next recipe

Others:
Idea:
Cook in csolent 3-4 washed eggs.



Hungarian recipes

Jewish recipes

Next:


Main site (index) - Favorit