Cold fish dishes
Famous Hungarian recipes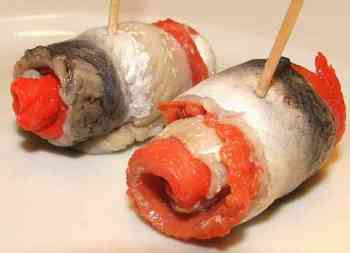 Cold herring roulade
150 g pickled herring (Bismarck herring)
50 g smoked salmon marinated in oil
toothpicks

1 Drain the fish and cut in half and remove the bones.
2 Drain the salmon and cut into wide strips.
3 Place on each fish rolls of a smoked salmon and roll up firmly.
4 Fix with toothpicks.
5 Store in vinegar.



Cold appetizers

Hungarian recipes

Fish recipes
Others:
Serving idea:
Sprinkle the roulades with black pepper, chopped capers or with chopped dill.

Next:


Main site (index) - Favorit