Preserving at home
Pickles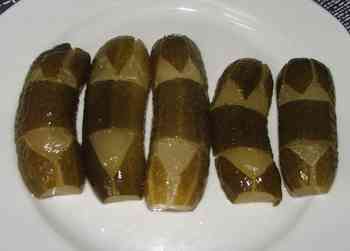 Bikini cucumber
Ingredients
Gherkin (cucumber)
salt
dill
garlic
bread


Instructions
1. Wash and rinse the cucumbers.
2. Half the cucumbers length-wise.
3. Cut the nice bikini shape.
4. Put the cucumber into washed jars.
5. Put dill and garlic cloves too (optional).
6. Dissolve salt in water, bring to boil and pour into jars.
7. Place a slice bread on the top of the jars.
8. Cover the jars with a small plate.
9. Place the jars on a sunny place.
10. After 4-5 days you should transfer them to other (smaller) jars and store in the fridge.



previous recipe
next recipe

Others
Notice
Needs too much work, but the result is gooooood....



Preserving

Next:


Main site (index) - Favorit