Sweet recipes
Strudel and pancakes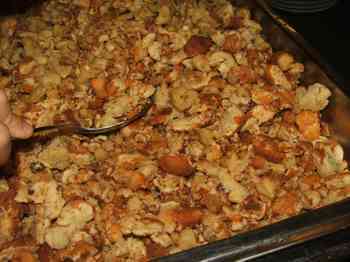 Kaiser schmarren 2 (Császármorzsa, smarni)
Ingredients
250 g floor, 4 whole eggs
400 ml milk
1 tsp salt, 50 g sugar
20 ml oil
1 pckg. vanilla
50 g raisin, 20 ml rum
300 g cooked fruit
1 tbsp grated lemon rind


Instructions
1. Wash the raisins in the rum.
2. In a bowl mix the floor, 4 eggs, salt, milk, raisin and grated lemon rind.
3. Mix with a whisk until smooth.
4. Melt the lard in the pot, get it very hot.
5. Pour in all the batter at once and cook it as a large pancake, over high heat.
6. As it cooks lift up the edges of the pancake to let the uncooked batter flow underneath.
7. When it is completely set, pull apart the pancake with the spatula and turn pieces over to cook on the other side.
8. The pancake pieces should have some browned edges.
9. Sprinkle the top with powdered sugar.



Pancake dough recipes

Pancake dough 1. (Palacsintatészta)

Pancake dough 2. (Palacsintatészta)

Pancake dough 3. (Paprikás palacsintatészta)
More pancake recipes

Chocolate pancakes (Kakaós palacsinta)

Gundel pancakes (Gundel palacsinta)

Pancake with apricot jam (Lekváros palacsinta)

Pancakes with curd (Túrós palacsinta)

Pancakes with hazelnut cream filling

Walnut pancakes (Diós palacsinta)

Rich man's soup

Cabbage filling

Walnut filling

Pancake a la Hortobágy

Pancake a la Csesznek
Pancakes with cabbage filling coming soon

Kaiser schmarren 1 (Császármorzsa, smarni)

Kaiser schmarren 2 (Császármorzsa, smarni)

Kaiser schmarren Vienna style (Bécsi császármorzsa)
previous recipe
next recipe

Others
Serving
Serve with cooked fruit on the side.




More Hungarian Recipes

How to cook for kids

Pancake recipes

Strudel recipes

Sweet recipes

Basic recipes

Decoration
Salad recipes

Next:


Main site (index)

All recipes in ABC order


We wish You Good Cooking and enjoy the tasty result!