Hungarian vegetable recipes
Lecsó recipes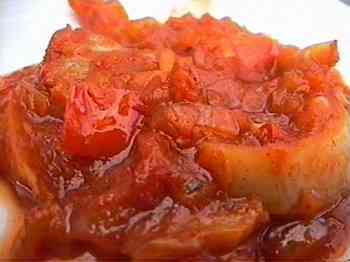 Gipsy lecsó
200 g bacon
500 g onions (sliced finely)
2 kg greenn peppers (cut into rings)
400 g tomato (quartered)
2-3 potatoes (sliced)
2-3 tbsp paprika
2-3 hot chili peppers
salt

1. Cut the bacon into slices and fry it golden.
2. Add the finely chopped onions and cook until golden brown.
3. Sprinkle with the Hungarian paprika powder, add the tomatoes, the potato slices and the paprika cubes.
4. Season with salt and chili peppers to taste and cook with cover ready.



Hungarian recipes -

Pörkölt (Hungarian stew) recipes
Others:
Idea
Serve with crispy bread.

Next:


Main site (index) - Favorit