Sweet
Famous Hungarian recipes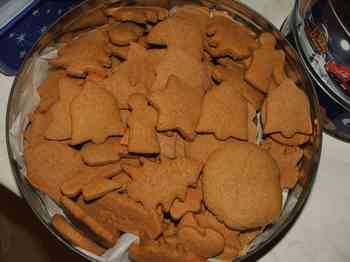 Christmas honey cookies
Ingredients
1 1/4 lb flour (sieved)
2 oz butter
3/4 cup honey
5 eggs
1 tsp baking soda
3/4 lb sugar
1 tsp vanilla.


Instructions
1. Work togeter the flour, butter, sugar and baking soda.
2. Beat 4 eggs thoroughly, add honey and mix well with flour mixture.
3. Place the mixture into the refrigerator for a night.
4. Roll dough about ca 1/8 inch thick and cut with cookie cutters, or take about a teaspoon of dough and flatten for each cookie.
5. Place cookies on greased cookie sheets/pan, about 3 inches apart.
6. Beat the remaining egg and brush over cookies.
7. Bake the cookie at 450 degrees for about 7 minutes.
8. Decorate each cookie with icing or add one half almond, walnuts, or chocolate chip in the middle of each cookie.




previous recipe
next recipe

Others:
Serving:
See the picture.
Next:


Main site (index)

Sweet recipes

christmas recipes

Decoration ideas - Favorit