Cold meat dishes
Poultry roasts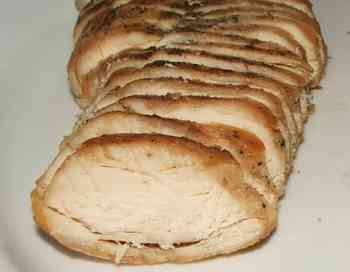 Cold chicken breast (natural)
2 chicken breasts (boneless and skinless)
vegetable oil
(seasoned) salt

1 Rinse the chicken breasts well under water and lightly pat them dry.
2 Sprinkle the chicken breasts with salt (or seasoned salt).
3 Coat a medium size baking pan with vegetable oil and add the chicken breasts, now brush the breasts with the oil. Add about 50 ml water, cover the pan and put it into oven.
4 Bake for about 30 minutes covered and remove the cover (or foil) and bake 30 minutes.
5 Sprinkle the breast in every 10 minures with the baking souce.
6 Cut cold into slices.
Yummy.



Cold appetizers

Hungarian recipes
previous recipe
next recipe

Others:
Serving idea:
Cut into slices and use as a sandwich top.

Next:


Main site (index) - Favorit