Sweet
Famous Hungarian recipes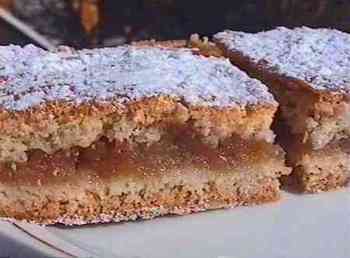 Apple tart Arad style
Ingredients
450 g flour (sieved)
250 g butter
2 kg sour apples (pelled, grated)
5 eggs
1/2 cup breadcrumps
200 g sugar
1 tsp cinnamon.


Instructions
1. Work togeter the flour, butter and 2 eggs.
2. If the mixture does not hold together pour over some milk. Knead and for into two balls.
3. Place one ball into the refrigerator, roll out the other one and use the line the bottom of a 30x35 cm tin.
4. Sprinkle with half of the breadcrumbs.
5. Squezee the apples and spread over the paste.
6. Sprinkle with the sugar, cinnamon and the rest of the breadcrumbs.
7. Roll out the other ball, carefully folding it on the rolling-pin, and cover the paste and apple in the tin.
8. Mix the 3 egg yolk and brush the top of the paste.
9. Put into preheated, hot oven and bake over a hogh heat until the top starts browning, then moderate the heat and bake the cake ready.
10. Cut the cake into rectangles while it is still warm. Use a sharp knife.





previous
next

Others
Serving
See the picture.


Sweet recipes

Almond-apple strudel (Mandulás-almás rétes)

Apple strudel (Almás rétes)

Apple tart Arad style

Apricot dumplings (Barackos gombóc)

Carnival doughnuts (Farsangi fánk)

Christmas honey cookies

Coconut balls

Gingerbread

Gundel pancakes (Gundel palacsinta)

Kaiser schmarren 1 (Császármorzsa, smarni)

Kaiser schmarren 2 (Császármorzsa, smarni)

Kaiser schmarren Vienna style (Bécsi császármorzsa)

Marzipan

Marzipan balls with walnut

Pancake with apricot jam (Baracklekváros palacsinta)

Pancakes with curd (Túrós palacsinta)

Poppyseed strudel (Mákos rétes)

Plum dumplings (Szilvás gombóc)

Walnut pancakes (Diós palacsinta)

Walnut strudel (Diós rétes)
More Hungarian Recipes

How to cook for kids

Pancake recipes

Strudel recipes

Sweet recipes

Basic recipes

Decoration
Salad recipes

Next:


Main site (index)

All recipes in ABC order


We wish You Good Cooking and enjoy the tasty result!