Goulash, paprikash (pörkölt, paprikás)
Stuffed green peppers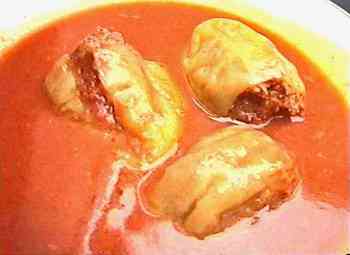 Stuffed peppers (Töltött paprika)
Ingredients
1 kg minced pork meat
2 liter tomato juice
22 green peppers
100 g rice, 2 eggs
1 large onion (choppend), 5 cloves of garlic (chopped)
1 tsp paprika
1+1 kitchen spoon fat
50 g of flour
1 tsp salt, 1 tsp ground black pepper
sugar to taste


Instructions
1. Wash peppers.
2. Cut off tops and remove seeds.
3. Filling: Mix well the Pork meat, onion, rice, eggs, paprika, salt, pepper and garlic.
4. Stuff peppers lightly with meat mixture (warning: rice will expand).
5. Put peppers in a lange pan.
6. Mix together tomato juice, salt and sugar and pour over peppers.
7. Cook about 1 hour. Oven for 1 hour or on the stovetop for 1 hour.



More stew (goulash) recipes

Chicken goulash

Chicken goulash (csirkepörkölt)

Cowboy's tokány (Csikós tokány)

Hungarian Ox-tail goulash (farkapörkölt)

Hungarian tripe stew (Pacalpörkölt)

Lamb goulash (Lamb pörkölt)

Lamb paprikash (Birkapaprikás)

Lamb pörkölt in cauldron

Mushroom paprikas (Gombapaprikás)

Pepper tokány

Pork paprikash (Sertéspaprikás)
Pork pörkölt (Sertéspörkölt)

Veal goulash (Borjúpörkölt)

Veal paprikash (Borjúpaprikás)
previous recipe
next recipe

Others
Note
Very good Hungarian meat dish.



More Hungarian Recipes

Cauldron recipes

Fish recipes

Hungarian recipes

Pigkilling recipes

Pörkölt (stew) recipes

Soup recipes

Basic recipes

Decoration
Salad recipes

Next:


Main site (index)

All recipes in ABC order


We wish You Good Cooking and enjoy the tasty result!